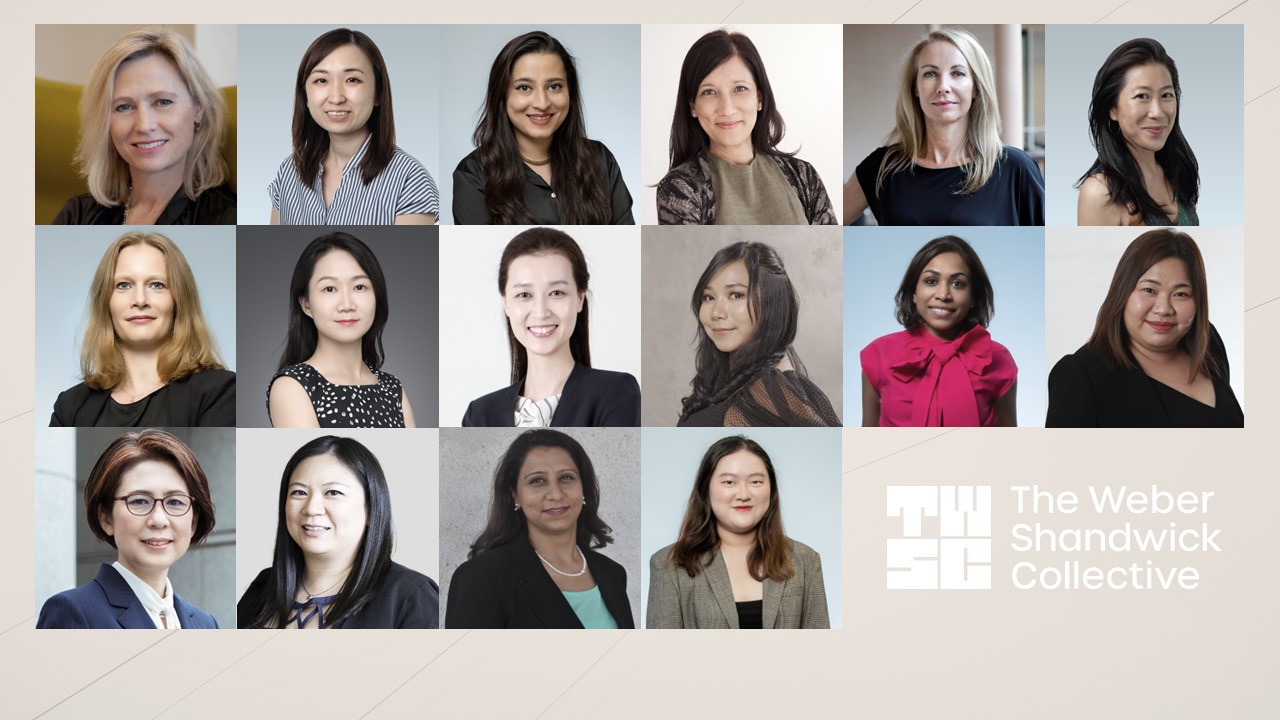 Women's Health – a multi-market, cross-discipline offer launched
Ahead of International Day of Action for Women's Health (28 May 2023), The Weber Shandwick Collective announced the launch of its bespoke, cross-market offering committed to shaping healthier futures for all women in Asia Pacific. The Weber Shandwick Collective Women's Health offer brings together a passionate group of agency experts from across the region, covering health communications, corporate communications, policy and advocacy, employee engagement, digital innovation and design experience. The offer is fuelled by unparalleled data intelligence and works closely with a curated group of in-culture advisors and external consultants from business, government, academia and society.
The offer will be led by Rachael Pay, managing director, health, Weber Shandwick EMEA and senior health sponsor for the APAC region, and is designed to drive a change in the definition of women's health – historically niched around reproductive health and diseases unique to women – to a more holistic view on health, wellness and wellbeing. Evidence shows women in Asia are at a higher risk of suffering from a multitude of diseases or experience poorer outcomes than men, as is the case with such common conditions including heart disease caused by hypertension,1 diabetes,2 auto-immune diseases3 and Alzheimer's disease.4,5
The Women's Health offer is underpinned by a suite of products and services including the agency's latest proprietary insights product, The Women's Health Indicator. Developed by data analysts and behaviour experts, it informs and identifies specific gaps in women's health by analysing and assessing data points measured across society, media and policy.
"Research shows that across the Asia Pacific region, women are more prone to experiencing health inequalities brought on by sociocultural influences and conditions and political environments that limit their ability to initiate and access optimal care," said Liz Clark Martinez, Vice President, Health Strategy, Weber Shandwick Hong Kong & Singapore. "To foster change in the field of women's health, we must gain a deep understanding of women and the intersections of culture and modern medicine – only then can we support clients to actively drive progress across all areas of health by developing communications programs that truly resonate and drive action."
Research recently conducted by The Weber Shandwick Collective reinforces the need for bespoke multi-stakeholder education and awareness campaigns, not only to reach women, but to resonate with them to drive meaningful change.
Findings from media coverage and social media data analysed from April 2022 to March 2023 in multiple Asian markets show a lack of information specific to women about Alzheimer's disease, diabetes and rheumatoid arthritis (RA), despite the increased risks for women:
Despite evidence that women in Asia with type 2 diabetes are almost twice as likely to die from coronary heart disease as men with diabetes, 2 only 4% of total diabetes coverage in the region mentions women explicitly.
Despite data in Japan showing almost twice as many new cases of Alzheimer's disease in women than in men,5 less than 1% of Alzheimer's disease conversation in the region is female-focused.
Despite evidence that there at least three times as many women with RA than men with RA in South Korea6, only 3.5% of online content in the region is specific to women.
"At The Weber Shandwick Collective, we're helping clients rewrite the script for women's health, widely acknowledged as one of the critical areas of inequity in our region today. Our offer is driven by a force of passionate health experts and specialists from every office across our business, spanning areas like diversity, equity & inclusion (DEI), employee engagement and  Femtech innovation – who are catalysing change in fair treatment, care and access to truly reflect the experiences, cultures and life stages of women in Asia Pacific today," said Vanessa Ho Nikolovski, Chief Client & Growth Officer, Weber Shandwick, Asia Pacific. "Our unique offer will bridge knowledge gaps and help companies and brands sit at the heart of women's health through creativity, action and measurable impact."
In addition to the launch of the Women's Health offer in the Asia Pacific region, Weber Shandwick is proud to be an industry leader in its commitment to supporting women's health and wellbeing through its existing and evolving People Programmes and Policies across the region."We are proud to be leading in the development of best-in-class programmes focusing on our employees who are women, who make up over 70% of our current workforce," said Susie Bates, Chief People Officer, Weber Shandwick, Asia Pacific. "In addition to supporting mental wellbeing talks and resources, our markets are committed to the ongoing development of programmes, including country-relevant menstrual and psychological support to employees, as well as flexible working policies at all levels. We remain completely committed to drive programmes in this space, whilst continuing to be mindful of our culturally nuanced markets and sensitivities around them."
Vogel B, et al. Lancet. 2021;397:2385–438.

Xu G, et al. Eur J Endocrinol. 2019;180:243–255.

Ohta A, et al. Mod Rheumatol. 2013;23(4):759-64.

Liu CC, et al. Biomed Res Int. 2019;11:5378540.

Montgomery W, et al. ClinicoEconomics and Outcomes Research. 2018;10:13–28.

Kim et al. J Rheum Dis 2021;28(2):60-67.
---